Top 5 Hollywood Celebrities Who Love Reading Books
Hollywood Celebrities Who Love Reading Books:
1. Emma Watson
2. Oprah Winfrey
3. Kit Harington
4. Robin Williams
5. Daniel Radcliffe and J.W. Rowling
Today Hollywood celebrities are in the public eyes more than ever before. Now a day's people are very much attracted towards celebrities. They just want to know what they are doing, whom they are dating, what they are eating. In order to stay connected people follow their favorite star on social media, and to maintain their fame and popularity even celebrities share their lifestyle with their fans, from fashion to food products. Celebrities constantly tell us about their favorite products and trends, fans are so crazy for their favorite stars that celebrities words go directly to their heart and they try to follow it. Today celebrities not only talk about brands product but they also recommend about books. They try to become inspirational.  I personally like celebrities who recommend books- not just their own books to their fans and tell them about the benefits of reading. there are many superstars /celebrities and successful people who love reading. Not only in Bollywood but there are celebrities in Hollywood who loves to read. Whenever they are free they love to read, they know how reading can influence their life positively. I have shared that many successful people entrepreneur investors love to read books because they know that knowledge can never go out of fashion, similarly even celebrities know that knowledge gives them wisdom and makes a person confident.
Read More: Why Reading Books Is Important?
Every successful person, no matter whether the person is a huge superstar of Bollywood or a huge celebrity of Hollywood or a mega star of tollywood, every successful person understands the importance of reading, they will never underestimate reading importance because they know that wisdom, knowledge, improvement, learning and staying positive all these things are needed to walk towards the journey of success, and book reading is the best way to gain all these things, they know that reading makes life easy simple and peaceful, hence every successful person will recommend you to read books, Plenty of Hollywood celebrities have shared their love of books with the world, there are several stars who have started digital book club with their fans and followers, there are plenty of holly wood celebrities who love reading books, their love for books is so much that they like to spend their free time with books, because they know that book is your only true friend, Reading a good book is worth more than 1000 friends, I personally advise people to follow those people  or celebrities who influence your life positively, who recommend you to read good books, because a positive influence will always keep your life positive happy and peaceful.
Read More: How To Increase Reading Speed By 300%
Today I will share top 5 Hollywood celebrities name who love to read books. They don't only read but also recommend those books to their fans so that even their life becomes joyful happy and successful.
Let's begin with Top 5 Hollywood Celebrities Who Love Reading Books:
1.

Emma Watson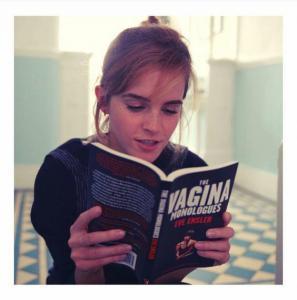 Almost everyone knows who Emma Watson is, she is an English actress, model and activist. she started her Hollywood career as Hermione Granger in the Harry Potter film series,  like her beloved character Hermione Granger and belle. Emma Watson loves to read, she loves reading so much that she started a global, monthly good reads book club of feminist text. She loves reading so much that she once took a year off from acting just to read more. She recruited a team to hide book for people to find all over the world. Emma Watson says that books aren't just lovely but they have memories of themselves, a book can take you to another place or to another time.
2. Oprah Winfrey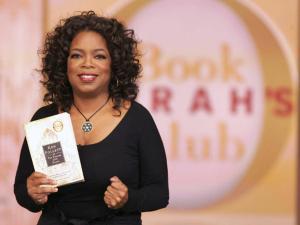 When we talk about Hollywood celebrities who love reading books and Oprah Winfrey name doesn't appear on that list, that's something not possible. When it comes to celebrity book recommending, Oprah is queen. Oprah's has her own book club which has turned unknown authors as a known author and also turned non-readers as book lovers. Oprah loves to read books, she says that reading book has literally changed her life and business. She says that reading books can get you where you always wanted to go. Oprah says that for her "READING IS A WAY TO EXPAND HER MIND, OPEN HER EYES AND FILL UP HER HEART."
Get Free Audiobooks of Hollywood celebrity Oprah
3. Kit Harington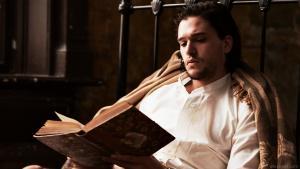 Christopher Catesby Kit Harington is an English Actor who rose the fame By playing the role of Jon Snow, one of the main characters in the very famous series GOT (Game of Thrones). Kit also comes under the list of famous Hollywood celebrities who loves to read a book, he understands that reading gives in-depth meaning to life, Kit loves to read books, he is passionate towards reading books and 1984 BY George Orwell is his all-time favorite book.
4. Robin Williams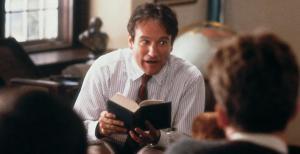 Robin McLaurin Williams was an American actor and comedian. He started his career as a Stand-up comedian in San Francisco in 1970's. He rose fame as a Mork in the sitcom Mork and Mindy.He went on to establish his career in both feature film acting and as a stand-up comedian. Most people know him after his film Jumanji. He was well known for his improvisational skills. Robin Williams loves a reading book. He was fond of books, he used to spend hours in reading books. Robin William says that we don't read and write poetry because it's cute, but we read because we are members of the human race and the human race is filled with passion. Robin says that medicine, law, engineering are noble pursuits, but reading, beauty, romance, love these are the things for which we stay alive for.
Robin also said that no matter what anybody tells you, words and ideas can change the world, and reading gives you both knowledge which makes you wise and ideas which makes you successful and both the things has the capability to change the world.
5. Daniel Radcliffe and J.W. Rowling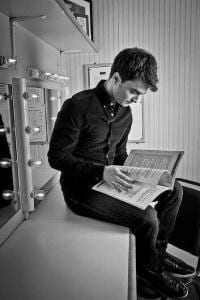 Daniel Jacob Radcliffe Is an English actor who rose a fame by playing the title character in the Harry Potter film series. I am sure almost everyone knows Harry Potter series as well as Daniel who played Harry Potter character in that series. Daniel made his acting debut at age ten in BBC. At age 11 he was cast as the title character in the first harry potter and later he was starred in the series of ten years until the release of eighth and final film in July 2011. Daniel says that if he would get two options like either to go out and party and drink or to stay at home and read a book. He will definitely choose the second option of reading because he believes and feels that going out for party and drinking doesn't work or doesn't give any benefit but sitting and reading a useful book will for sure benefits him, gives him wisdom makes him wise.
Now let's talk about the author of the book Harry Potter, J.W.Rowling, JOANNE "JO" Rowling, is a British novelist best known as the author of the Harry Potter fantasy series. The book has gained worldwide attention and also earned multiple awards. This book has sold millions of copies and also become the best-selling book series in history. The book has become the highest-grossing film series in history. This success for J.W.Rowling became possible because of her love towards reading and writing. She is so much fond of reading that she says " THAT WHEREVER I AM IF I'VE GOT A BOOK WITH ME, I HAVE A PLACE I CAN GO AND BE HAPPY."
She literally advises and recommends people to read a lot, she says that she believes that something very magical can happen when you read a good book.
These were the name of 5 Hollywood celebrities who love to read books. Even I personally advise you to read good books as much as you can because books can seriously take you to the position which you always admired or dreamt about. Hence read good books. If you have a confusion which book you should read first then do check out my top 10 and top 20 books blog. It will for sure help you to take your first step towards reading good books.